Repair: 01296 399984
Manufacture: 01280 817877

Fast, Efficient, and Comprehensive Repair Service
Circuit board repairs can be turned around in hours. No need to wait weeks for replacements from the manufacturer at a much higher cost. Equipment can be repaired and working more quickly than you might imagine. Older machines can be back in operation - even after the original manufacturer's service is no longer available.
Your circuit board repair will be assessed within 24 hours and a written quotation provided by fax or e-mail. Non-urgent repairs are despatched within 8 working days. More urgent repairs can be achieved by return of courier, or faster if required, in which case a small premium may be chargeable.
Contact us for a free collection within the UK. If you are not satisfied with the quote your equipment will be returned to you without charge

All electronic repairs are covered by a 24-month unconditional warranty which covers the entire item.
About Us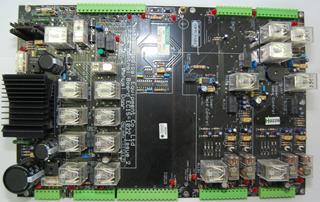 Over 30 years we have become the experts in circuit board repair. Our proven PCB repair method allows us to address any industrial or commercial electronic repair challenge
- Quickly, economically, efficiently
We supplement component inspection and replacement with sophisticated simulation techniques that allow us to replicate a normal working environment for many types of equipment.
Major corporations around the world rely on us for the repair of complex industrial and commercial equipment where time is money and reliability is crucial.
Typical types of equipment supported
Controls for Lifts, Escalators
Building Management Services & Air Conditioning Plants
Oil Extraction Industry: Alarms, Controls, Instrumentation, Drives, etc
The Print Industry, particularly Komori Electronics
Robotics & Injection Moulding Equipment
Food Processing and Packaging machinery
Production Equipment: CNC Controls
Shipping: Navigation equipment, controls and alarms
Power Generation
All repairs carry a 24 month unconditional warranty